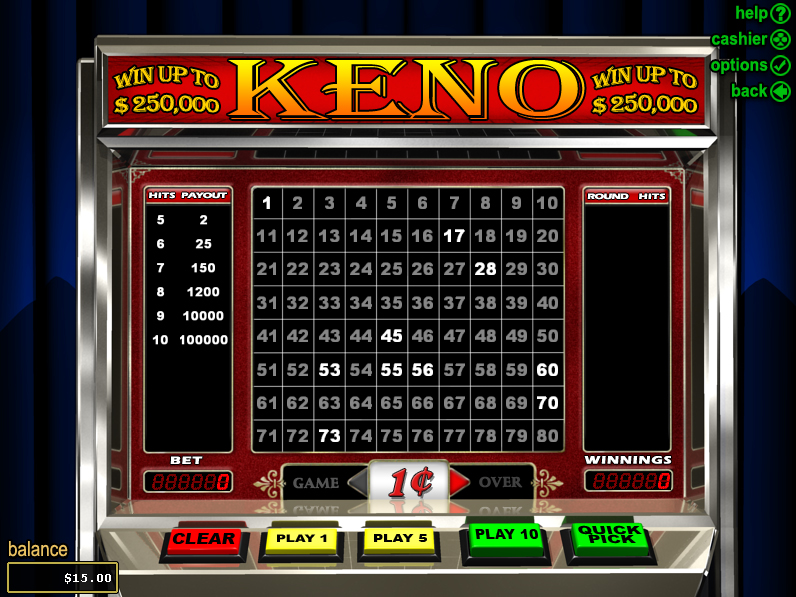 Casino Keno
Keno has long been a casino favorite and that's most because of how easy it is to pick up. The game's popularity has now reached new heights thanks to online gaming.
Keno is a lottery-style game where the player has a Keno Card numbered from 1 to 80. The player picks the bet amount from the top right of the Keno Card and then predicts numbers will be drawn. Pick up to 15 of those numbers on the Keno Card while betting $1, $5 or $10. The bet amounts remain the same regardless of how many numbers were picked.
The next step is for the player to click the Play button, which will then initiate the draw of 20 numbers. They'll be drawn and rolled out randomly, and will then be highlighted on the Keno Card automatically. The more numbers that are accurately predicted, the bigger the payout for the player.
As for the payout amounts, refer to the Payout Table in the upper left of the Keno Card. It displays the payouts based on the number of "catches" (accurately predicted numbers).
How to Play Keno
Playing Keno is easy.
Select your bet amount, which is located at the bottom of the Keno card.
Use your mouse to select one to 15 numbers on the Keno card or click Quick Pick to randomly select ten numbers.
If you would like to de-select a number (even after a Quick Pick selection), just click the number again and it will no longer be selected.
When you select or de-select the numbers, the pay table located on the left hand side will change accordingly.
When bets and number selections are confirmed, click the Play 1, Play 5, or Play 10 button.
20 numbers will roll out in random.
Once the 20 numbers have been rolled out, there is a results table to the right hand side of the Keno card that informs you of how many numbers you predicted correctly.
You can see how many credits you won once the numbers have been rolled out on the lower right side of the Keno card.
When a number is successfully predicted, it will be highlighted. Other numbers that were rolled out will be crossed off the Keno card. When all 20 numbers have been rolled out, you will be paid according to the pay table, located to the left side of the Keno card. If you would like to play the same numbers for the same bet, just click Play 1, Play 5 or Play 10 button again. If you would like to play different number(s), click Clear to clear the selected numbers or simply de-select the one(s) you would like to change.